Rectification work is usually one of the smaller types of renovation work. It could be just fixing some cracks on the floor, or re-plaster the ceiling due to holes, or repainting the walls. Rectification projects are usually minor touch up as required by the developers for newly handover units. Although these tasks are mainly covered by the main contractors during the defect liability period, however, due to some reasons, the developers might look for new contractors for these rectification works.
Types of Rectification Work
Within the defect liability period, usually there are cracks on the pebble wash pavements and planter box in the common area. These cracks could be due to some slight soil movements or accidental bumping into these structures. But ultimately, it resulted in these areas to have cracks and need to be rectified.
Hence, how you fix this is to cut a symmetrical line and hack out the concrete. Then redo the pebble wash with cement and new pebbles. Lastly, you would need to paint it with varnish to make it shines.
Road pavement with concrete imprint could also crack due to soil movements or poor workmanship. Some cracks could be across the entire floor where we would need to replace.
How we usually fix these concrete imprint is to hack out and remove the concrete imprint according to the imprint boxes. Then we would need to redo the concrete imprint by filling out the imprint boxes. After that, we will use the mold to imprint the design on the newly rectified box. Lastly, we would also need to paint it with varnish to make it shines.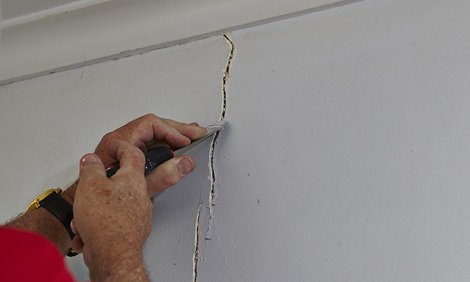 3. Cracks and Plastering on the wall
These are common defects encounter by the developer, where newly handover units need contractor to fix as per highlighted by the new owners. Some of it could just be cosmetic rectification where we will just plaster over the crack and then paint over it. However, there are some cracks that might be indicative of more serious problem, such as waterproofing issue, or structural issues. We would need to highlight to the management, and propose a plan to rectify these problems before it becomes more serious.
Therefore, if you are looking for reliable contractor with experience in these rectification works, you can call for us. We are experienced in dealing with these rectifications, and we understand the requirements by the developer management team, as well as able to manage the expectation of the new house owner.
We are focus mainly in KL and Selangor, with past rectification projects in Puchong, Damansara, Petaling Jaya, Setia Alam, and Sungai Buloh. Besides that, we have also done design and build projects in Seri Kembangan, Ampang, Setiawangsa, Bukit Tunku and a few other places. Feel free to call us to discuss.